Featured Image via Studio McGee
Sharing on-trend built-ins for your fireplace, talking about the different styles and elements. In my latest video I was able to put my design degree knowledge to the test, designing one for my own home, taking you through the behind the scenes of design, and sharing how to make it look more realistic through renderings. If you want to check out the video, you can find it here.
Image via Studio McGee
Image via Studio McGee
A very classic style of built ins. Notice the single colour, the cupboards at the bottom and the picture lights. Picture lights are becoming super popular when it comes built ins, and you will notice a lot of the below examples feature them – if not all!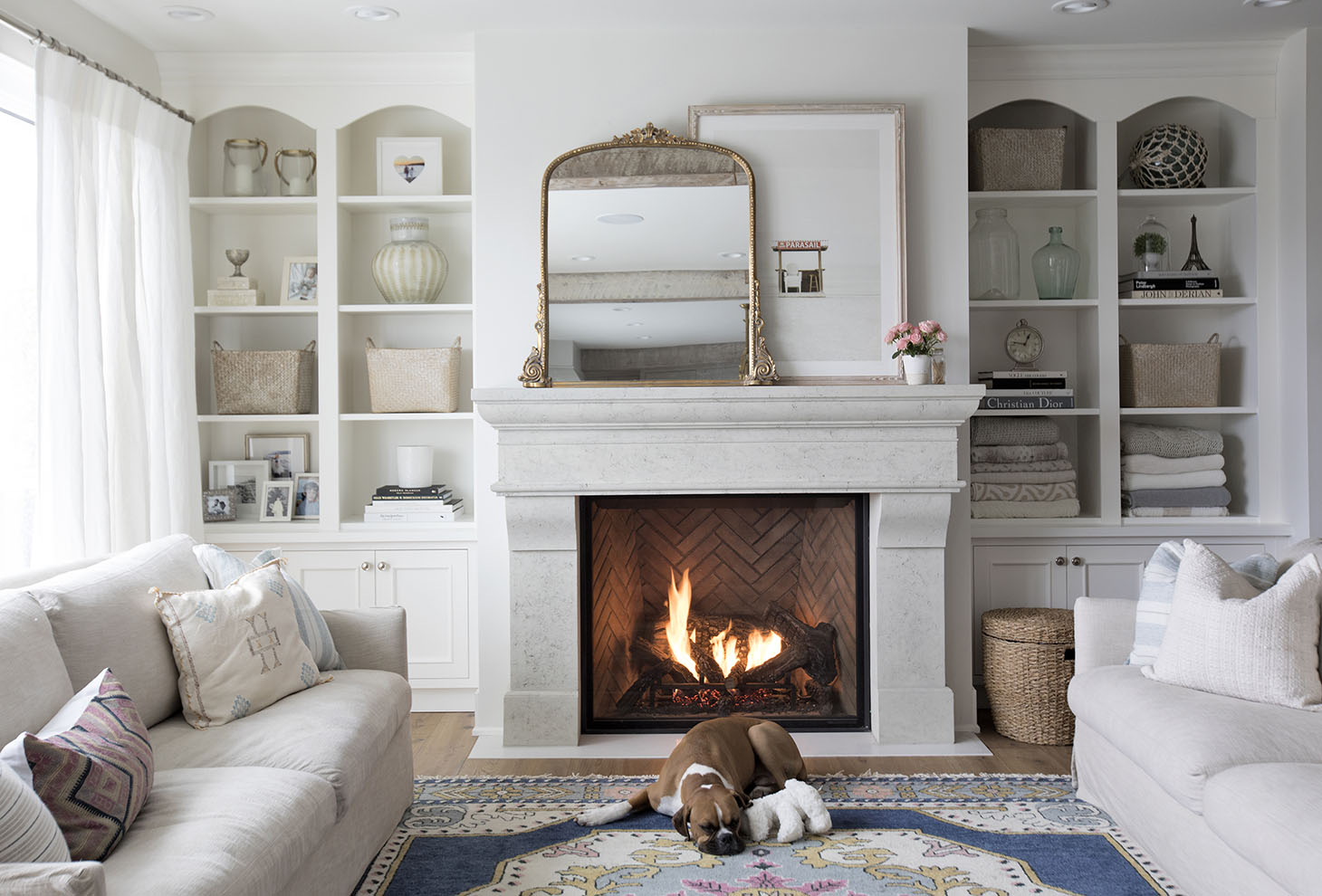 Image via Jillian Harris
I love this photo to give an example of bookcase shelves. I love having extra space at the bottom and top of a bookcase. These particular ones are equally spaces, but I like having extra space at the bottom for useful items, for example Jillian has a stack of blankets on the right of her bookcase. Then, the very top shelves, I like extra space to have decorative items since you can't easily reach these shelves. The in-between shelves I like to be spaced closer together than the photo above. However, what I have learned is that there is no right and wrong answer when it comes to bookcase shelf spacing, or base cabinet height. The main suggestion I would make is to ensure the shelves have 3 little notches per shelf, so you can raise of lower a shelf by an inch if necessary.

Image via Studio McGee
I love the subtle two-tone colouring between the mantle (white) and the built ins (soft grey colour). Also, the arched detailing in the upper is stunning, but note that there is no picture light and a picture light does not work here and would take away from the arch detail. Another thing to note is that the lower cabinetry is actually drawers rather than cupboards!
Image via Studio McGee
This style of built ins, in my opinion is a little more trend led and modern. The built ins are all wood, and there is a different in colour between the mantle and built ins. The whole built in is shelves with no cabinetry at the bottom and there is a picture ight mounted above.
Image via Studio McGee
Another more trend-led design with all wood, floating shelves (surrounded by drywall, and no wood supports on the side). The picture light is mounted on the wall rather than built into the millwork due to the style of this and the floating shelves. This built in also features drawers at the base.
Image via oakstonehomesiowa.com
This is on of my favourite wood built ins. The reason being, is that right now, the wood is stunning and while it feels a bit more trendy, if you're tired of the look in 5-10 years you can easily have it painted. The lower cabinetry is cupboards and there is a picture light mounted on the millwork above the bookcase with some nice wood detailing.

Image via Instagram @millhavenhomes
Another two-tone fireplace, similar concept as I mentioned in the last photo, a bit trend-led but easily painted in the future. Also featuring a picture light and then drawers at the bottom.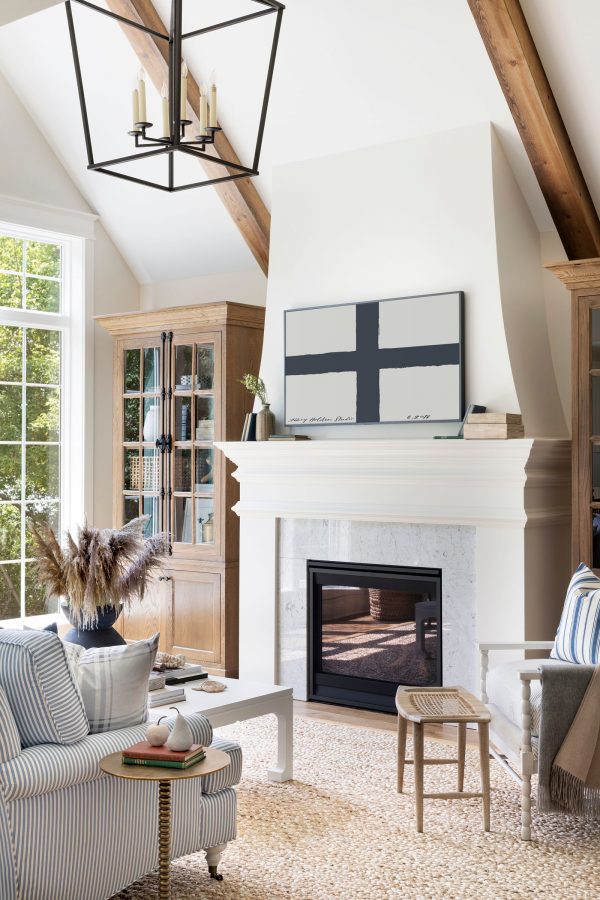 Image via briahammelinteriors.com
While this isn't a built in per se, it is still a type of cabinetry beside a fireplace so I wanted to highlight this look as well. These are freestanding units enclosed with doors. I think this is also a beautiful and unique look. I personally love the intentional look of a built in rather than a freestanding unit, but it is still a stunning look!
TV's and Fireplace Built Ins
Image via Rachel Parcell
One of my favourite examples of a tv in a built in. This look doesn't take away from the fireplace and the detailing there. Sure, the tv looks like a black piece of technology but I think the design did a really great job blending this well and drawing your eyes elsewhere. I think I would have selected a Frame TV to go in this space since they are designed to look like art when they are turned off, but I still think this design is perfect. Also, having a TV to the side of the fireplace might work better for the flow of different spaces, as I know this is certainly the case with mine.

Image via Instagram @thebloomingnest
While this isn't a perfect example since there are no built-ins around this fireplace, I wanted to show what the Frame TV above a mantle looks like. I think the Frame TV is a great way to make a space look much classier, if you are going to put a TV above your fire.